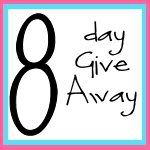 One thing i like to do is support my local family owned and small town businesses.
For this Giveaway i picked a business that has been established for quite some time and one that is new to our town. The first drawing will be for the established business Tea Pot Depot. I wish they had a website.
( i have did searches for one but couldn't find one)
I recently had lunch there with a friend and had to pick up one of their Cook Books and this Faith Key Chain.
The next drawing is for this gorgeous turquoise cross pendant and adjustable ring .
It comes from a new boutique in town called La Dolce Vita.
(no website found for them either)
Rules:
Must be a follower
Leave a comment (i get the names form the comments to draw from)
Post it on your blog, facebook, twitter or myspace but let me know where

Winner of 3rd Giveaway will be posted 3/6/10 @ 7am


4th Giveaway will be blogged on 3/7/10