I was over on Pinterest (that site is so addicting) and came across a tasty looking dish!
You can view more yummy recipes by Jessica over at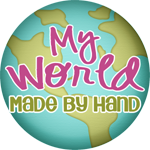 not only does she have yummy recipes
she has lots of cool stuff on her blog.
Go check her blog out!
I just did a few things different.
after putting the sauce on i put a slice of mozzarella cheese on
then sprinkled on Parmesan cheese
next sprinkle cheese
then pepperoni for me!